GE Hitachi Nuclear Energy, Ontario Power Generation, SNC-Lavalin and Aecon Group signed a contract to deploy a BWRX-300 small modular reactor at OPG's Darlington New Nuclear Project site in Clarington, Ontario.
About 20% of the world's population has no access to safe drinking water, and this number will increase as the population continues to grow and global freshwater sources continue to decline. The worst-affected areas are the arid and semiarid regions of Asia, the Middle East and North Africa.
http://www.unesco.org/new/fileadmin/MULTIMEDIA/HQ/SC/images/WWDR2015_03.pdf" aria-label="UNESCO has reported">UNESCO has reported that the freshwater shortfall worldwide will rise to 500 trillion gallons/yr by 2025. They expect water wars to break out in the near-future. The https://www.weforum.org/agenda/2015/01/why-world-water-crises-are-a-top-global-risk/" aria-label="World Economic Forum">World Economic Forum says that shortage of fresh water may be the primary global threat in the next decade.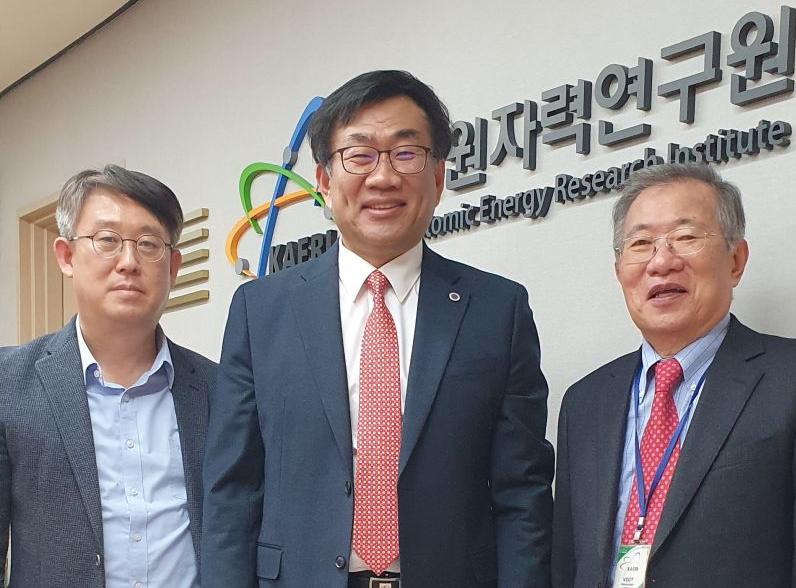 Dr. Yoon Il Chang, former deputy director of Argonne National Lab, visited KAERI to give a special lecture on SFR (Sodium Fast Reactor) based on IFR (Integral Fast Reactor) technology.
Dr. Chang emphasized the need to continuously develop SFRs with fuel-breeding characteristics in preparation for the future expansion of nuclear power.
Congress has passed a series of bills over the past four years supporting the development and deployment of "advanced" nuclear reactor designs, which are markedly different from those currently in commercial operation. Energized by billions of dollars in funding through the Department of Energy, a sprawl of experimental efforts and technology demonstration projects are now underway.
Click to read the entire article at the American Institute of Physics (aip.org)
Threshold
SCGI's Thanksgiving week newsletter debuts my current book project, which will be released chapter by chapter as I write it over the next year. The urgency and global importance of energy policies, and energy security, have shaken the world in the wake of Russia's invasion of Ukraine. In fact, though, the current challenges have been developing for a long time. The problem of inflation that's being experienced worldwide can be attributed in large part to dramatic rises in energy costs. As Robert Hargraves quite convincingly argued recently in this excellent article, energy is the economy.
The original working title, Moot Point, has been changed. The new title is Threshold – How Energy Abundance Will Transform Our World. We are, literally, at the threshold of a new era that will be made possible by new advanced nuclear power systems that we can expect to see deployed before the end of this decade. At the Threshold will map out some of the most promising systems and explore the many ways in which they can solve some of the thorniest problems associated with the complexity of energy generation and utilization.
My late friend David MacKay inspired me to emulate his example with his book, Sustainable Energy Without the Hot Air, which he distributed for free. So shortly after its publication, I decided to likewise distribute my original book, Prescription for the Planet, for free. More recently, Jim Hansen released his latest book, Sophie's Planet, chapter-by-chapter as he wrote it. I'd like to acknowledge both David and Jim for their magnanimous example, and for recognizing that if you want to write a book to make a difference in the world, giving it away will tend to get it more widely read, which is the major goal of writing books on policy and technology.
I hope that this work in progress will contribute to a deeper understanding of our challenges, and exciting potential solutions, to the serious issues facing humanity today.